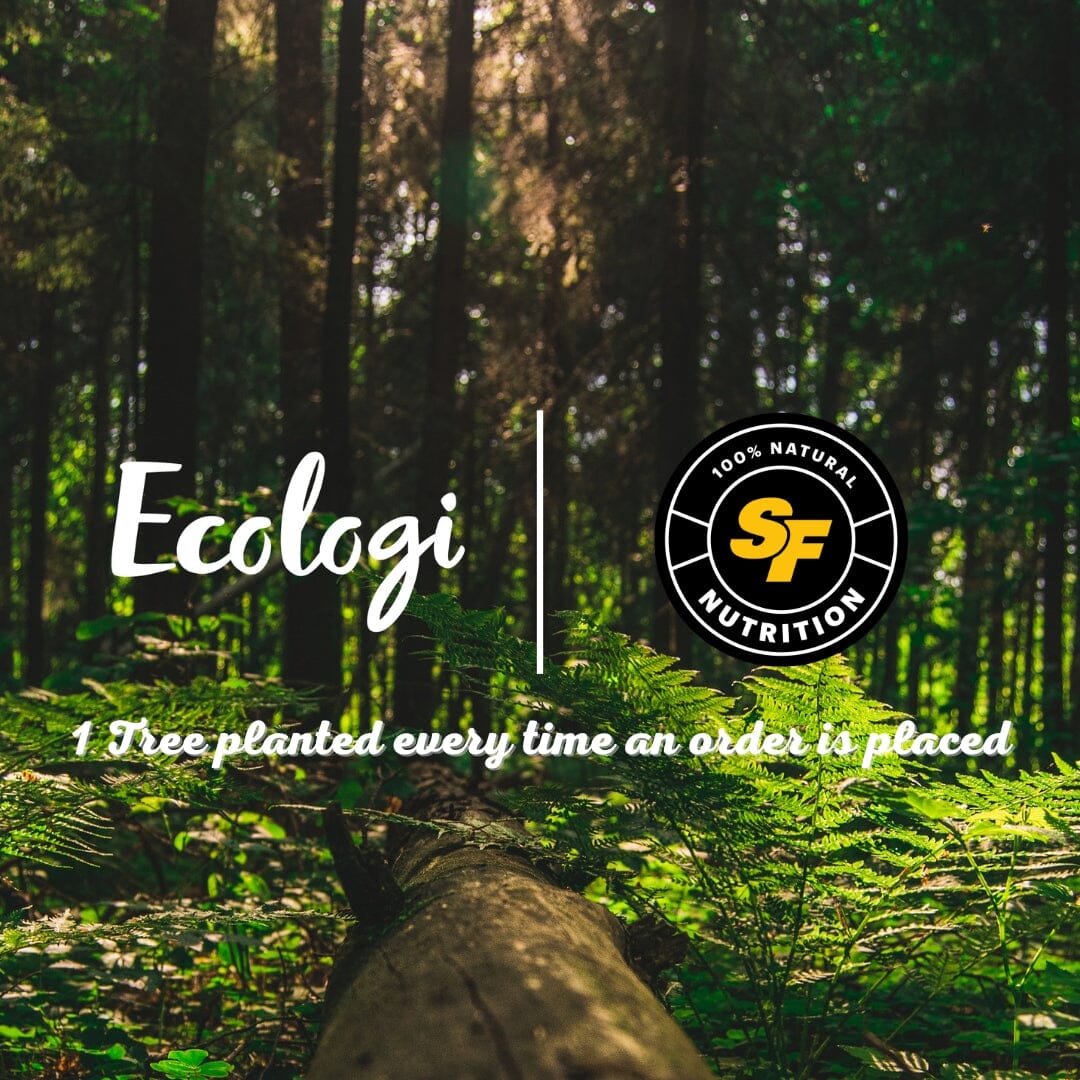 In an era where sustainability and environmental consciousness have become paramount, SF Nutrition is proud to announce an exciting partnership with Ecologi, an organization dedicated to combating climate change. With this collaboration, SF Nutrition is taking a significant step towards greener operations by planting a tree for every order placed. By combining our commitment to providing top-quality nutrition products with Ecologi's expertise in reforestation, we aim to make a positive impact on the planet and inspire others to do the same.
Planting Trees for a Greener Future
Trees are nature's silent heroes, playing a crucial role in combating climate change. They absorb carbon dioxide from the atmosphere, help restore ecosystems, prevent soil erosion, and provide habitat for countless species. By planting a tree for every order, SF Nutrition and Ecologi are contributing to a greener future and fighting against the devastating effects of deforestation.
How It Works
SF Nutrition's partnership with Ecologi ensures that every time you place an order for our premium nutrition products, a tree will be planted in a carefully selected location around the world. Ecologi works with trusted tree-planting partners and focuses on regions where reforestation efforts can have the greatest impact. Together, we strive to restore damaged ecosystems, promote biodiversity, and offset carbon emissions generated by our operations.
The Power of Collaboration
At SF Nutrition, we believe that the power of collective action is essential for achieving meaningful change. By partnering with Ecologi, we not only enhance our commitment to sustainability but also invite our valued customers to be a part of this transformative journey. With every purchase, you contribute to a greener planet and leave a positive environmental legacy.
Transparency and Accountability
SF Nutrition and Ecologi are committed to transparency and ensuring that every tree planted is accounted for. Through Ecologi's online platform, customers will have access to a personalized tree-planting certificate, showcasing the number of trees planted on their behalf. This transparency fosters trust, allowing you to witness the tangible impact of your contribution to the global reforestation effort.
Inspiring a Movement
By adopting this environmentally conscious approach, SF Nutrition hopes to inspire others within the industry and beyond to prioritize sustainability. We believe that small actions can create significant ripples of change, and collectively, we can make a substantial difference in healing our planet.
Join SF Nutrition and Ecologi Today
We invite you to join us in making a green difference. By choosing SF Nutrition for your nutritional needs, you're not only investing in your health but also investing in a greener, more sustainable future. Together, we can nurture the Earth, one tree at a time
SF Nutrition's collaboration with Ecologi is a testament to our commitment to sustainability and the well-being of our planet. With the planting of a tree for every order, we aim to create a positive impact on the environment, restore ecosystems, and combat climate change. Through this partnership, we invite our customers to become active participants in the global reforestation effort, empowering them to leave a lasting green legacy. Join SF Nutrition and Ecologi today and let's build a healthier planet together.