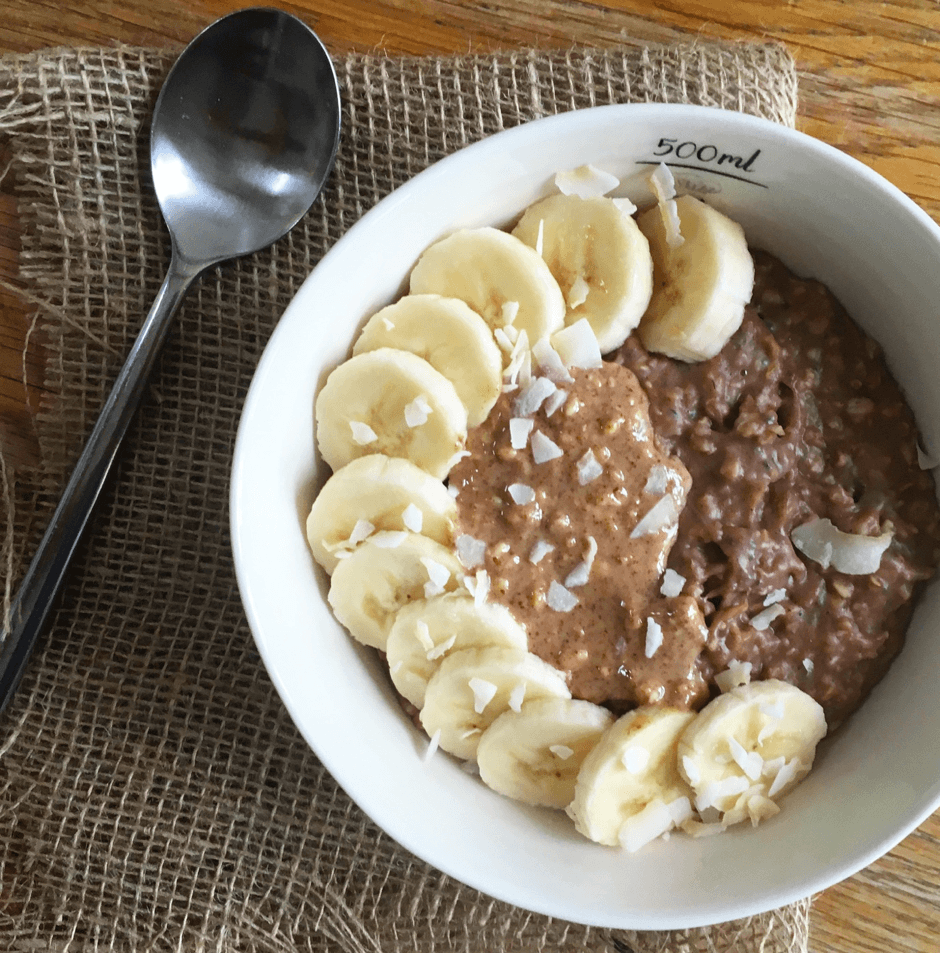 25 min 
Easy 
Serves 1
Ingredients
1/2 cup Oats
1 cup Water/Milk (I usually do 1/2 a cup of each)
1 tbsp Raw Cacao Powder
1 tsp Maca Powder (optional)
1 tsp Cinnamon
1 Scoop of

 

SFN Lean Chocolate Whey Protein

TOPPINGS: 
Banana Slices
Chia Seeds
Peanut Butter
Any other fruit you like e.g. Blueberries, Strawberries, Raspberries etc
Desiccated coconut
Method
Add the oats and liquid of choice to the pan, bring to a simmer and cook for about 5 mins.
The cooking time of your oats will depend on what type of oats you buy – I have quick cook rolled oats and they only take about 5 mins to absorb all the liquid BUT if you have steel cut or normal rolled oats they will take longer, around 10-15 mins on a low heat.
Once the porridge has thickened up and most of the liquid has been absorbed add the cacao powder, sweetener, and optional protein and maca powders.
If the mixture becomes too thick you can always add a splash more milk – this will also help to cool it down slightly.
Once all the ingredients have been incorporated add the porridge is cooked, pour into a bowl.
Top with your favourite toppings, a selection of mine are above, but you can go crazy and add anything you want!
Recipe created by FranFoodStories.
WHAT OUR PRO TEAM SAYS:
"Porridge the perfect pre or post-workout breakfast, especially when it is packed full of all natural SFN protein powder."