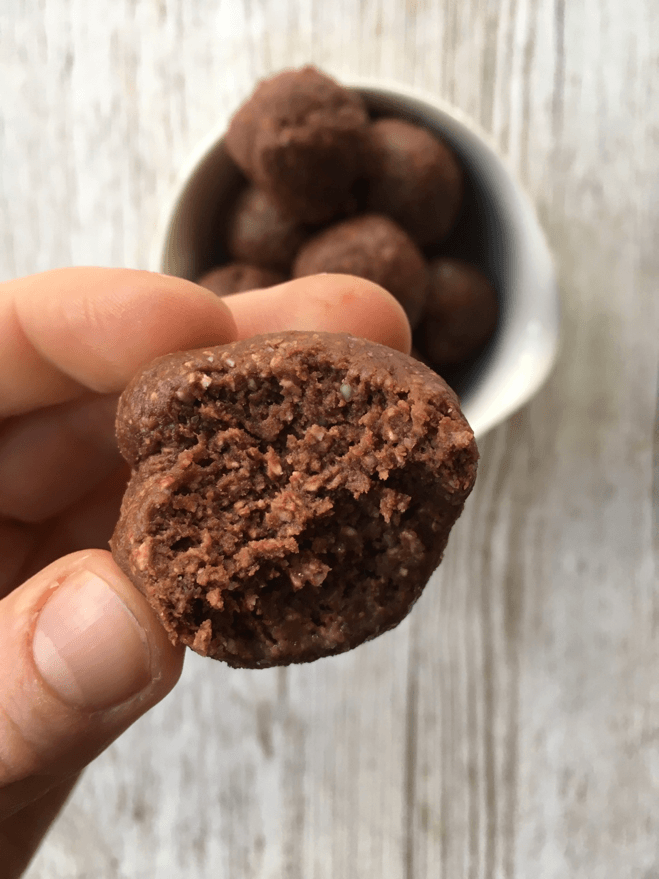 15 min 
Easy 
Serves 2
Ingredients
1 Cup of Oats
2 scoops of

 

SFN Chocolate Protein
2 tbsp Cacao Powder
1/2 Cup of Milk
1 tbsp Maple Syrup
1 tbsp Almond Butter (sub for nut butter of choice,

 

tahini

 

or 1 tbsp of melted coconut oil if nut free)
1 tbsp Ground Almonds
use

 

SFN Supergeens

 

for the added boost of antioxidnats
Method
Start by blending the oats in a food processor until they resemble flour.
Next add the remaining ingredients into the blender and whizz it all together until a dough forms.
You want it to be fairly dry so that it sticks together but isn't a wet dough. Add more ground almonds if its too wet and a splash more milk if its too dry.
Use your hands to roll the dough into small balls (you should make about 10).
Leave to chill for about 1 hour before digging in!
Store in the fridge in an air tight container for about 1 week.
Take a look at the rest of recipe's here.
WHAT OUR PRO TEAM SAYS:
"Before you read any further - please read this warning! These protein brownie bites are highly addictive and may cause side effects such as despair when your supply runs and out anger when someone eats one from your stash in the fridge."