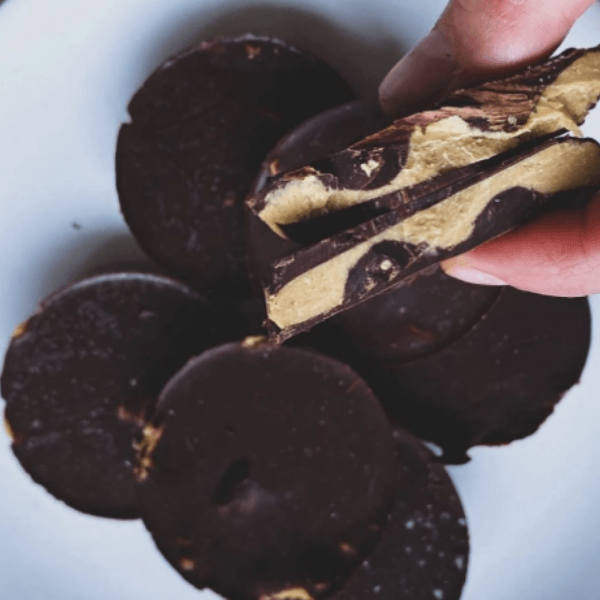 Method
Bring a pan of water almost to a boil and melt half the chocolate and coconut oil in a metal bowl over the top of the hot water (best way to not burn the choc) ⁣
Grease medium-sized muffin tins with some coconut oil or oil spray  and pour melted choc mixture into the bottom of the tin and put in the freezer⁣
While it freezes mix together your protein powder and peanut butter⁣.
Melt the other half of choc/oil using the same method⁣
Once  choc mix is frozen (about 20 -30 mins) evenly disperse the peanut butter mix on top of frozen choc and then pour melted choc on top and freeze for another 30 mins (add a sprinkle of pink salt on top!)
Fun fact: did you know that 70%- 100% dark chocolate has tons of health benefits because of the contains:
🍫
MAGNESIUM
= regulates blood sugar =, boosts immunity, and helps ease menstrual pain.
🍫POLYPHENOLS= a powerful anti-oxidant
🍫PREBIOTIC= helps feed healthy gut flora in your digestive tract.
WHAT OUR PRO TEAM SAYS:
"Our friend Keara has created these little treats for you. Give them a try and show us how you get on by tagging us in social media posts."