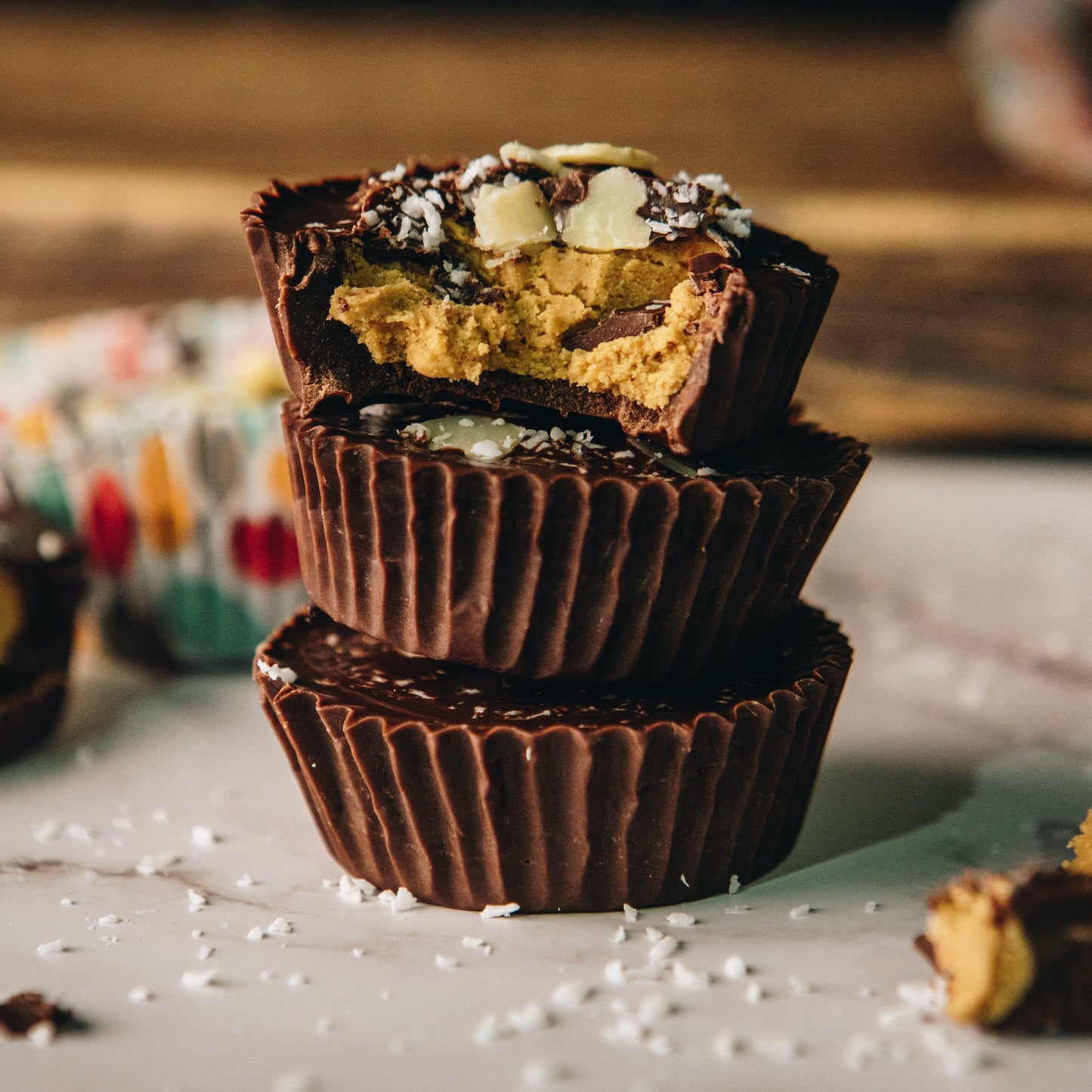 25-30 mins | Easy | Serves 12
Ingredients
1-2 Scoops SFN Salted Caramel Protein
1/4 Cup Of Peanut Butter
1 Cup Of Dark Chocolate Chips
1 Tbsn Coconut Oil
Optional For Toppings (Coconut Shavings & Almond Flakes)
Fill mini muffin tin with muffin liners and spray with coconut oil and set aside.

In a medium sized bowl mix the peanut butter and protein powder together.

Separate the mixture into 12 marble sized balls (1 teaspoon) and set aside. 

Melt the chocolate in a microwave, stir the mixture every 45 seconds until all the chocolate has melted.
Scoop 1 teaspoon of the chocolate mixture onto the bottom of each muffin liner. Then Place in the fridge for 10-15 mins.
Next place one protein peanut butter ball on top of each hardened chocolate, then flatten the ball with your finger.
Add two more teaspoons of the melted chocolate on top of the peanut butter to complete each of your peanut butter cups. Place the muffin tin in the freezer for another 10-15 mins
Enjoy!
WHAT OUR PRO TEAM SAYS:
"This is a personal SFN team favourite, if you love peanut butter cups, then you'll love these. The salted caramel protein takes it up a level!"
Our Products are 100% natural and manufactured in the UK. You can rest assured there is no nonsense or nasties in any of our products, especially in this delicious hot chocolate!"